Located three stops from Ikebukuro via the Marunouchi Subway line, and between Shinjuku and Akihabara on the JR Sobu (Chuo) line, Tokyo Dome is within easy reach of all parts of Japan's largest city.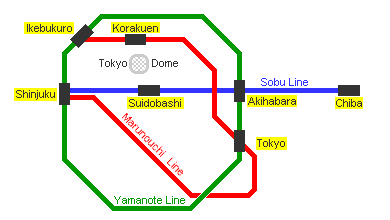 The closest station, Korakuen on the Marunouchi line, lies just across the street from the north side of Tokyo Dome. If you have time before the game, grab a burger at the McDonalds next to the subway ticket gates. Or stroll across the other street at the intersection and blow a few thousand yen at Yomiuri Land, the K-mart blue-light-special of amusement parks.
Leaving JR Suidobashi Station two blocks south of the dome, you will encounter several street vendors selling beer and soft drinks. Others peddle soba, udon, yakitori and other less easily identified morsels.
Around Tokyo Dome: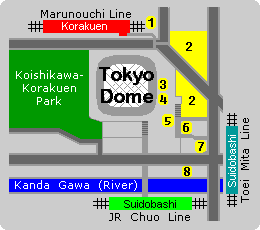 McDonalds
Yomiuri-Land
To:Do gift shop
Japanese Baseball Hall of FameMuseum
Ticket booth
Baseball Cafe
KFC, Pizza Hut, Dunkin Donuts and Mr. Donuts
Subway Sandwiches
If playing Japanese snack roulette disagrees with your palate, you'll likely find more familiar offerings at the intersection between JR Suidobashi Station and Tokyo Dome, a place which could easily be dubbed "fast food corner." There, you'll find Mr. Donuts, Dunkin Donuts, KFC, Pizza Hut, and Subway Sandwiches.
Those preferring quality over quantity should stop by the Baseball Cafe, immediately south-east and down one flight of stairs from the dome. While they don't offer Dodger Dogs, you can order burgers and other typically American dishes, all at a reasonable-for-Tokyo price.
If you still have time to kill and cash to throw around, visit the To:Do gift shop on the dome's east side. Although the emphasis is clearly on Giants merchandise, a bald eye will eventually land upon a few items relating to the dome's other tenants, the Fighters. [The Fighters had since moved to Hokkaido.]
Buy a cap, a T-shirt, and a plastic megaphone and get ready to cheer like the natives. For those who either have trouble sitting on hard seats for three hours or who wish to show their respect for the current Giants manager, why not purchase a Shigeo Nagashima [dated 1999] butt-pillow and reverently sit on the great one's grinning image?
Next to To:Do, past a 450 yen ticket counter and down one of level of stairs, you can enter the Japanese Baseball Hall of Fame bunker. Technically a museum, loosely defined, the lack of windows, the dull carpet and white walls and the lack of creativity in displaying the items conspire to lend this hall the personality of Astroturf. Clearly this attraction was included only as an architectural afterthought, an attempt to make use of empty space in the bowels of Japan's first dome.
Still for the price of a Big Mac, it may be worth a look. Team uniforms, pictures, cards and other memorabilia fill a long procession of glass cases, while one room contains plaques of all the members of the Japan Hall of Fame. Be aware, however, that virtually nothing is in English, so you had better either study the language or bring with you someone who reads Japanese.
If you haven't yet bought a ticket, stop by one of the booths either at the south-east, east, or north sides of the dome. Then look for your gate and get in line.
Before entering, you may be asked to open your backpack for inspection. You may bring cameras, food and drinks with you--but no glass containers. If you have canned beverages, you may be asked to pour the contents into paper cups.